MI all-rounder Kieron Pollard went out of the crease long before the bowler threw the ball in the match against the Punjab Kings. He was severely criticized for this act. (Muffadal Vohra Twitter)
In IPL 2021, Kieron Pollard has responded to the criticism by tweeting after being involved in a Mankading Controversy in a match against Punjab Kings (PBKS). He wrote that just because I do not react, it does not mean that I did not pay attention to the things of the people.
New Delhi.
The performance of the five-time champion Mumbai Indians (MI) in IPL 2021 has not been special so far. Mumbai has won only two out of five matches. In the last match against Punjab Kings (PBKS) on Friday, the team was able to score 131 runs and due to this they had to lose by 9 wickets. During this match, Mumbai all-rounder Kieron Pollard tried to respond to the critics through a tweet. Actually, something like this happened in this match, about which Pollard had come on the target of the fans and veterans.
Non-striker Kieron Pollard came out of the crease quite a bit before Punjab fast bowler Mohammed Shami bowled in the match. After Pollard did this, the debate on Mankading Controversy started again and the former players and fans on the social media had strongly condemned this act of Kosa and Mumbai all-rounder against the spirit of sports.
In response to this, Pollard posted a picture on Twitter, on which he wrote that just because I do not react, it does not mean that I did not listen to your words. He wrote the caption with this picture that these people should be loved, whose purpose is to do such things.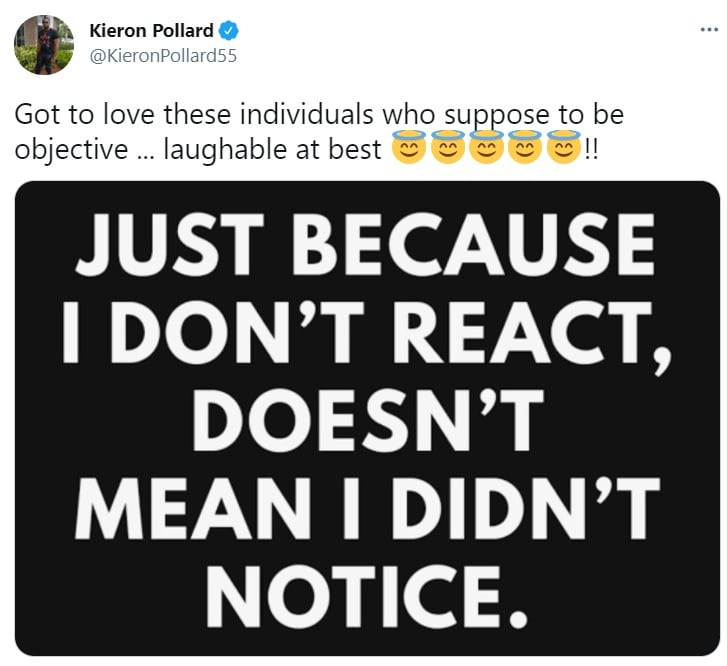 Kairan Pollard responded by tweeting critics bashing him over the Mankanding controversy. (Kieron Pollard Twitter)
– Sharukh MSD ™ | Mask P😷du (@StanMSD) April 23, 2021
CSK all-rounder Bravo also exited the crease
This was not the first time in IPL 2021, when the non-striker batsman had gone out of the crease long before the bowler threw the ball. This happened during the match between Chennai Super Kings (CSK) and Rajasthan Royals (RR) a few days ago. Then Dwayne Bravo went ahead of the crease before Rajasthan fast bowler Mustafizur Rahman was bowled. Harsha Bhogle, who was doing commentary at the time, had misunderstood his action and advocated strict rules to stop it.
Also read: IPL 2021 RR vs KKR Highlights: Rajasthan Royals register second win of the season
In the case of both Bravo and Pollard, fans and former veterans are demanding stern action. If you want then why not have to make strict rules for it.