MI's all-rounder Kieron Pollard's argument against Punjab Kings in the match again intensified the debate over mankanding. (Muffadal Vohra Twitter)
In IPL 2021, on Friday, a debate between Mumbai Indians (MI) and Punjab Kings (PBKS) sparked a debate on Mankading after an action by Kieron Pollard. In fact, in this match, Pollard went far ahead of Punjab fast bowler Mohammed Shami before bowling.
New Delhi.
In the 17th match of IPL 2021 (IPL 2021), the team of Mumbai Indians (MI) and Punjab Kings (PBKS) came face to face. The Punjab team captained by KL Rahul won this match by 9 wickets. In this match, non-striker Kieron Pollard was seen standing far out of the crease before Punjab fast bowler Mohammed Shami was bowled. This incident happened in the last over of Mumbai's innings. This entire incident was captured on camera.
After Mumbai Indians (MI) all-rounder Pollard did the debate again, Mankading started. Former Indian spinner and Murali Karthik, who was in the IPL commentary panel, was also annoyed by Pollard's act and talked about stringent rules and penalty provisions to curb it.
Many Twitter users have also found it wrong and said that contrary to the spirit of the game, penalty was imposed.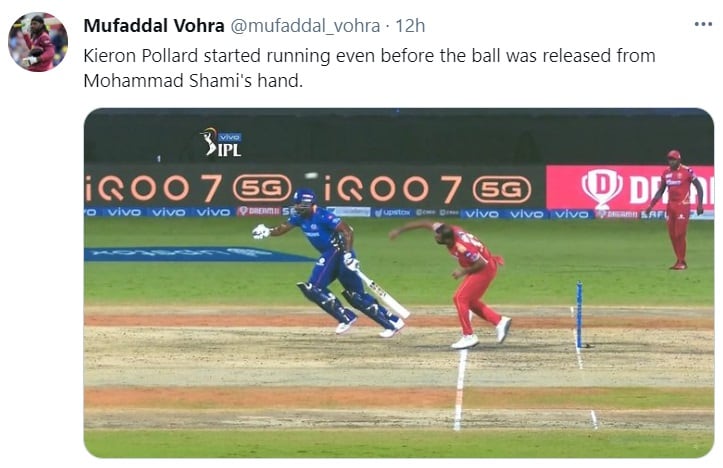 A Twitter user shared a picture of Pollard leaving the crease before throwing the ball. (muffadal vohra twitter)
– Sharukh MSD ™ | Mask P😷du (@StanMSD) April 23, 2021
CSK all-rounder Bravo also exited the crease
This is not the first time in IPL 2021, when the non-striker batsman has gone out of the crease long before the bowler has bowled the ball. This happened during the match between Chennai Super Kings (CSK) and Rajasthan Royals (RR) a few days ago. Then CSK all-rounder Dwayne Bravo went ahead of the crease before Rajasthan fast bowler Mustafizur Rahman bowled. Then Harsha Bhogle, who was commentary, had misunderstood his action and advocated strict rules to stop it.
MI vs PBKS: KL Rahul gives credit to Chris Gayle and young players for Punjab's win
Venkatesh Prasad also advocated strict rules
In the case of Bravo, former Indian fast bowler Venkatesh Prasad also expressed his displeasure by tweeting. He wrote that if the bowler's foot goes a few inches ahead of the crease, then the umpire gives him no ball. But if the batsman gets out of the crease, then nothing. In such a situation, the bowler should get the right to run out the batsman in this situation. The batsman's exit from the crease in this way is contrary to the spirit of the game.
Happy Birthday Sachin: 5 stories of Sachin Tendulkar's life that everyone should know
No action has been taken so far in the case of both Bravo and Pollard. In such a situation, fans and former veterans are also demanding that strict rules should be made so that the dispute does not deepen further on this matter.