IPL 2021: Virat Kohli arrives in Mumbai on Wednesday (Virat Kohl / Instagram)
IPL 2021: After the postponement of IPL, now players are returning to their respective homes. In this episode, Royal Challengers Bangalore captain Virat Kohli has also returned to his home in Mumbai.
New Delhi.
The 14th season of the Indian Premier League (IPL 2021) has been postponed indefinitely on Tuesday. The IPL was adjourned sine die after Sunrisers Hyderabad wicketkeeper batsman Wriddhiman Saha and Delhi Capitals spinner Amit Mishra were found positive for Kovid-19. After the postponement of the IPL, the players are now returning to their respective homes. In this episode, Royal Challengers Bangalore captain Virat Kohli has also returned home to Mumbai. Media cameras imprisoned Virat on his way out of Mumbai airport. All teams welcomed the postponement of IPL. However, due to travel restrictions, foreign players are waiting for the action of the BCCI to return home safely. League chairman Brijesh Patel said in a statement released by the IPL, "In the emergency meeting of the Governing Council of the Indian Premier League and the BCCI, it was unanimously decided to postpone the IPL 2021 session with immediate effect." The BCCI does not want to compromise on the safety of players, support staff and other competitors. This decision was taken keeping in mind the safety, health and well-being of all concerned parties. "
IPL 2021 Suspended: Suresh Raina says after IPL suspension, it's no longer a joke
Now, no decision has been taken regarding the remaining season of IPL, when, where and how it will be played. In such a situation, now players are also returning to their respective homes. In this episode, RCB captain Virat Kohli has also returned to Mumbai. After returning to Mumbai, Virat Kohli, along with his wife Anushka Sharma, will help the country in times of crisis.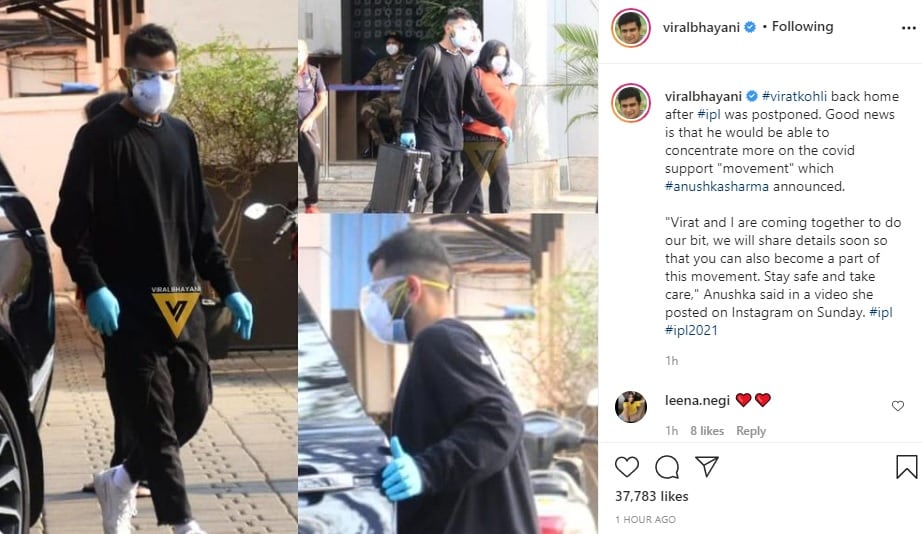 Please tell that Bollywood actress Anushka Sharma did not celebrate her birthday on 1 May. Anushka thanked the fans for wishing her a happy birthday on social media and shared a video. In this video, he said that in this difficult time when the country is facing the Kovid-19 crisis, it is not appropriate to celebrate his birthday. In the video, Anushka also appealed to her fans to unite and support the country in this hour of crisis. He also revealed that Virat Kohli and he are doing their work for the country and they will soon share information about it.
When asked about how the foreign players will go back, Brijesh told PTI, "We need to send them home and we will find a way to do that." Foreign players associated with this breathtaking league are returning to their countries. Worried because many countries have imposed travel restrictions due to the deadly epidemic in India. The BCCI has also assured the safe return of foreign players earlier. IPL 2021: Jose Butler gave special gift to Yashasvi Jaiswal after scoring 124 runs from 64 balls A few days ago, after the withdrawal of three players from Australia, 14 players from this country, 10 from New Zealand and 11 from England are left in the IPL. 11 from South Africa, nine from West Indies, three from Afghanistan and two from Bangladesh are also in India for IPL. New Zealand Cricket (NZC) has expressed confidence in the BCCI's ability to deal with this situation.